As the COVID-19 crisis unfolds, the depth of the economic damage being dealt to so many livelihoods is becoming clear. The world of British artisan cheese has been dealt a devastating blow by the closure of restaurants, hotels, pubs and cafes. Practically overnight, cheesemakers and cheesemongers who supplied these businesses saw a massive loss of business. Speaking to cheesemakers and cheesemongers over the phone, as I've been doing these past few days to learn their stories, I could hear their shock, anger, frustration, disbelief and fear of what might happen to their businesses in their voices.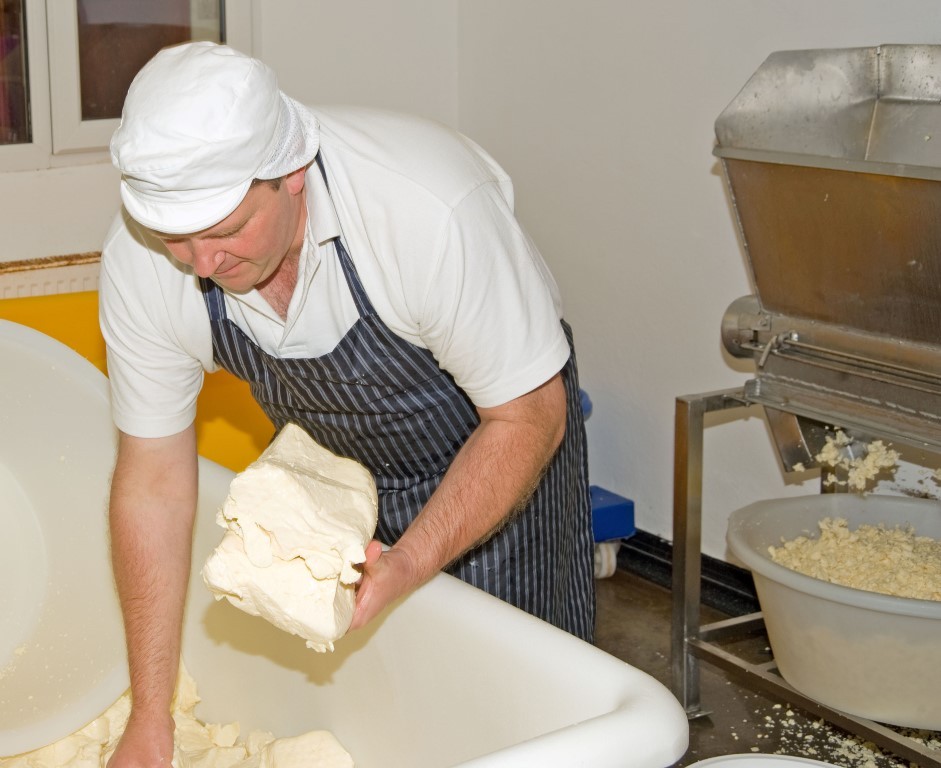 Graham Kirkham making Lancashire
Farmer Graham Kirkham, maker of the last farmhouse Lancashire cheese in the world, is among those badly affected. "Two weeks ago, I was in absolute meltdown," he says frankly. "When they turned food service off, that's where we belong. Us artisan cheese producers that's our market. Our market isn't supermarket shelves – it's special, nice little places. Probably 70% of what we do just disappeared overnight. I watched the news and I just started to melt. For three days I was so bloody angry that 40 years of cheesemaking on this farm could be taken away with a click of the fingers, just like that. Panic mode set in.
We normally sell 120-130 10kg cheeses a week. That first week we sold nine cheeses. I was stood there thinking how does nine cheeses run a farm, a cheesemaking dairy and pay 9 wages? That week I went to Sainsbury's and their shelves were empty, their cheese section was empty. I'm sat here on about 30 tonnes of cheese. The public are panic buying and I've got all this stuff. The system is wrong."
Farms, as Graham points out, can't be stopped "There's wages for working the land in spring, which needs to be done, feed bills, diesel bills, fertiliser bills. We need to grow our crops to get silage to feed our cows. There's no way of half doing it. You've got to create the right feed to create the milk to make this cheese. You can't cut corners. All that expense is still there and still coming all through the summer." In desperation, he rang some dairies to see if he could sell some of his milk. "No one would even ring us back," he laughs ruefully. "We've sold a few cows, dried a few cows off and put them on grass, furloughed two staff out of eight, and reduced cheese production." The milk that is being produced daily on his farm is still being used to make his famous Lancashire cheese. "We've got storage left for four weeks of cheesemaking so we can carry on, but once we fill up, I'm not sure." He set up a small farm shop on his farm "to create some income for my family to keep us going. Local people have been dead supportive, which is lovely," he says warmly. "It's good but it doesn't pay any big bills yet."  He's also doing mail order and offering local deliveries. The cheesemongers he supplies understand Graham's plight and are doing what they can to help. "Neal's Yard Dairy, Courtyard Dairy, Paxton and Whitfield, the Fine Cheese Company they're all sending us lovely message and trying to help out."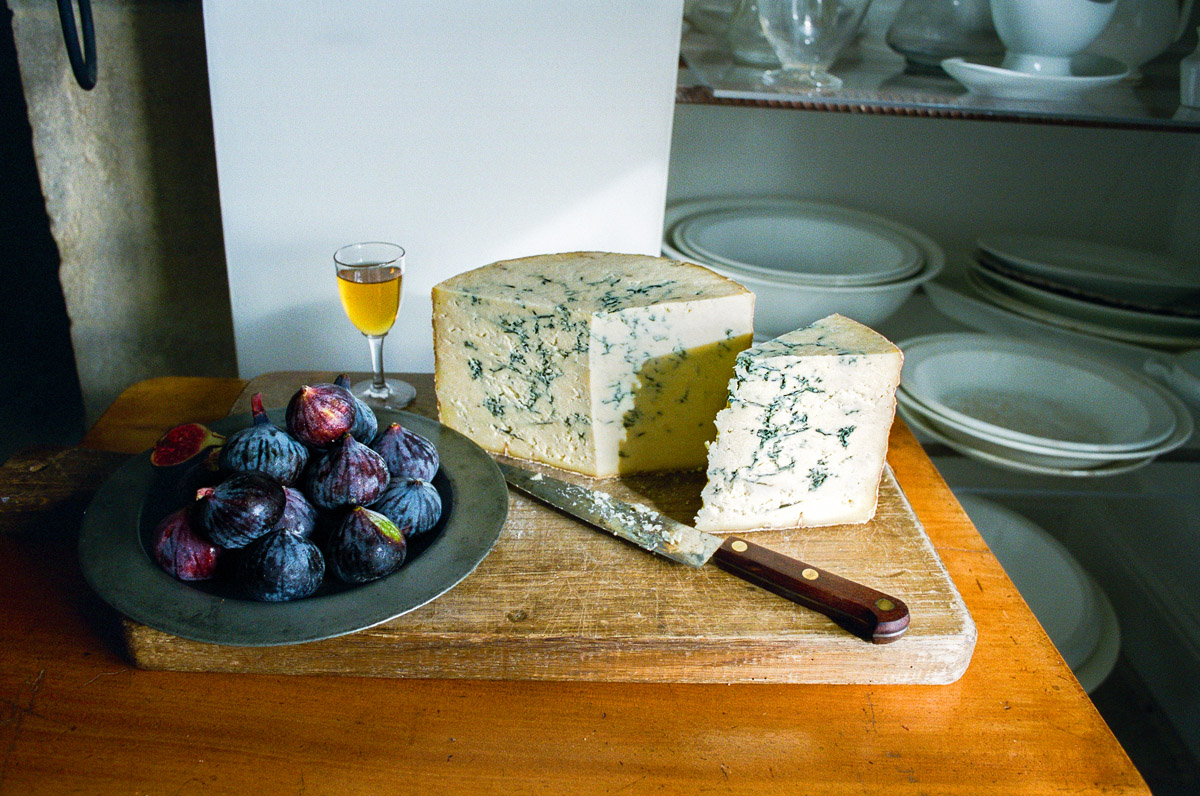 Colston Bassett Stilton, photo: Harry Darby, for Neal's Yard Dairy
In Nottinghamshire, Colston Bassett Dairy, renowned makers of Stilton, are similarly affected. "It's dire, Jenny. A large part of our market, was supplying food service. Even if not first party, the people buying from us sell to that market" explains a sombre Billy Kevan, Colston Bassett's Head Cheesemaker. "I would think that 60% of our sales stopped overnight. We don't know the full impact yet.
We stopped making cheese in March because we make cheese in close proximity, in high humidity, high temperature conditions and we had to keep our staff safe from the virus. We've furloughed 18 staff out of 32. We have a contract to buy the milk, so it's costing us money not to make the cheese, but I think if we did make the cheese, we'd have nowhere to store it. The stock we have got we keep cold to slow down the maturing until – hopefully – we can sell it." The situation as he makes clear is bleak. "It's not just the UK market that's affected. We sell to the US, that's reduced. We sell to Europe, that's reduced. We've never had so many impacts all at the same time. We're lucky that we do have some retail and we're thankful for that. We are selling online. If you go on our website I've listed as many suppliers as I can."
Cheesemongers, an important outlet for artisan cheese makers, have also been hit hard by the crisis. "It is an extraordinary situation," says David Lockwood, Managing Director of Neal's Yard Dairy. "We sold to a lot of restaurants and they've all closed. It all came to an abrupt halt on Friday 13th, so we were suddenly left with not just with cheeses like Ogleshield that go to restaurants, but also loads of catering size products: crème fraiche, ricotta, butter, cream, grated cheese." Export, another important part of Neal's Yard Dairy's business, has also been damaged. "Corona has hit the US side – put a big old dent in sales. Europe for the most part is very, very quiet. For the first time in years we had to cancel an order for Spain because we couldn't make up enough weight to make it work."
Counter at Neal's Yard Dairy, photo: Harry Darby,
Classic British cheeses – Colston Bassett Stilton, Cheshire and Mongomery's Cheddar – have been particularly badly hit by this loss of export market. The consequences are tangible. "We've got thousands of wheels that right now don't have homes. We are thinking about where to go with it. It's a similar story with Stichelton. It's tasting so good right now, it makes you weep. That's the mind-bending part for me. I went through and tasted them with Gareth. This cheese is magnificent. Any other time we would not be able to keep it on the shelves."
"One of the outcomes of this situation is that lots of businesses like ours are having to pivot," says Jason Hinds, Sales Director and Joint Owner, Neal's Yards Dairy. "That's a commonly used word at the moment," he observes wryly. "With supplying restaurants going to zero in 48 hours, our mail-order service has grown dramatically. We were lucky we had one. A lot of businesses didn't and are now having to create an ecommerce department which is a difficult thing to do, I can tell you."  One of the things Neal's Yard Dairy have done is team up with Natoora (a fresh produce business that supplied restaurants). "They offer our cheese with their produce so have more things to sell and if people can buy a bit of cheese in their veg delivery, it's convenient for the consumer and it relieves some of the pressure on deliveries." The company's vans that formerly delivered to restaurants are now delivering to retail customers in London, with a Dairy Box containing provisions like bread, eggs and yoghurt as well as cheese seeing a "massive uptake". Neal's Yard Dairy closed the Covent Garden shop as it was too narrow for social distancing, but the Borough shop on Park Street and their Bermondsey Spa shop are open. "We've re-organised the shops so only two people work there at one time and only two customers are being served at one time." Despite adapting to the situation as best as the company could, some staff at Neal's Yard Dairy have had to be furloughed. "It's a thing I never thought in my career I'd have to do, but there's not enough work to do as sales have been decimated. That day that we had those conversations with the staff with the staff being furloughed was the most difficult day I've had. It was moving how supportive and understanding they were about these decisions that we're having to make for the company's survival, our future. It made me proud to work with the people that we spoke to." It's not only their staff that Jason and David are thinking of and deeply concerned about, but the cheesemakers. For years, often decades, Neal's Yard Dairy have worked closely with the cheesemakers whose cheeses they sell. Faced with this acute situation, they are working closely with them to prioritise those whose cheese stocks need moving urgently, using discounted prices and focussing marketing communications to try and shift stock as quickly as possible.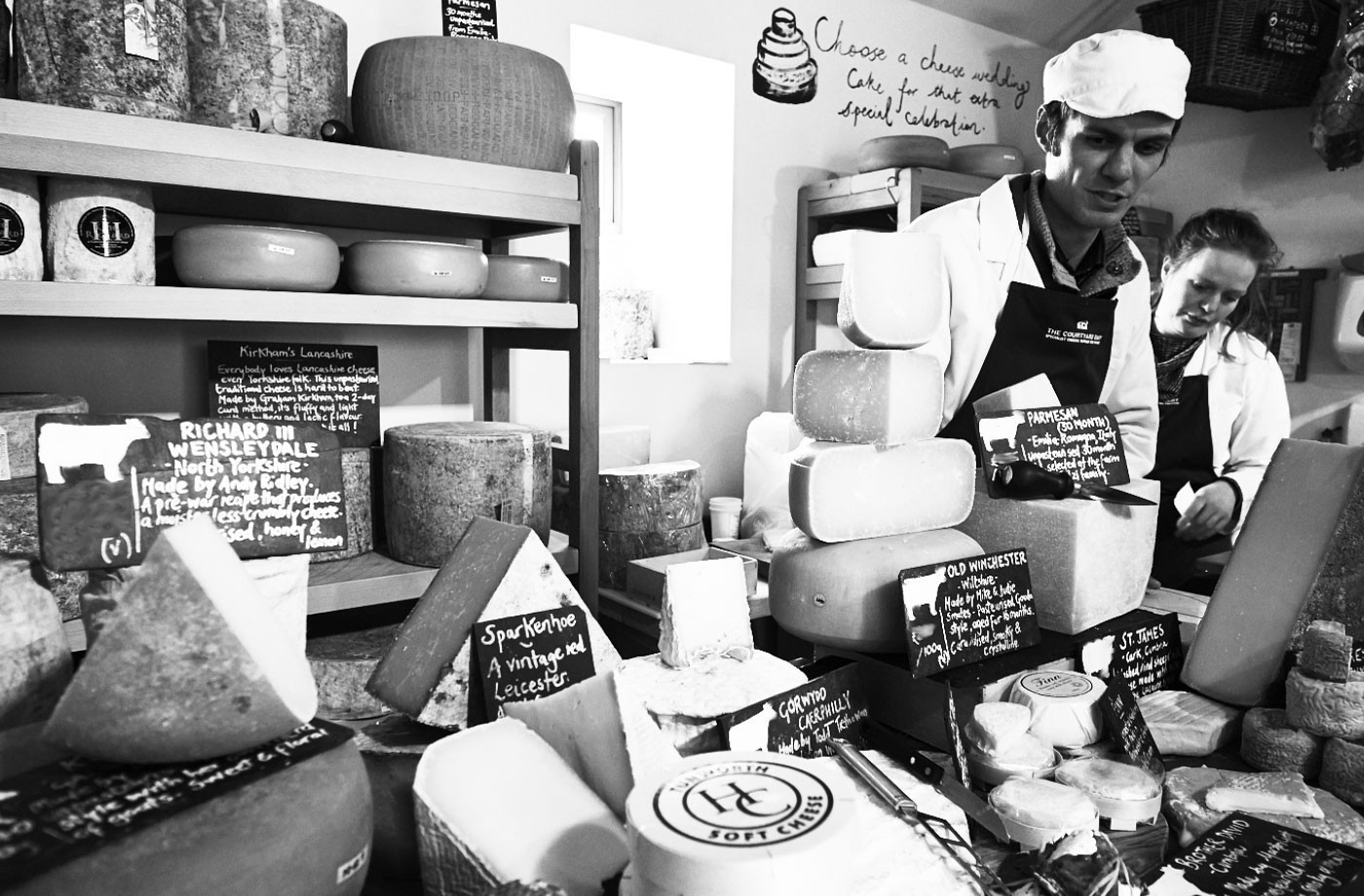 The Courtyard Dairy
Cheesemonger Andy Swinscoe of The Courtyard Dairy, Austwick in North Yorkshire, was directly impacted by the loss of customers coming in through the shop door. "We're an out-of town cheese shop, so to speak; we're not surrounded by chimney pots. We're on a main road and we rely on people going past. As soon as people stopped moving that instantly hit us. We would normally have around 1000 retail customers a week, but we're currently seeing about 40. That's a heck of a hit." He had to close his café, but has kept the shop open, increased the volume of mail order sales (turning his cheese museum into a packing room) and is offering click and collect and local delivery. "We've bought a shipping container which we're insulating because once our storage rooms are full, we will need space."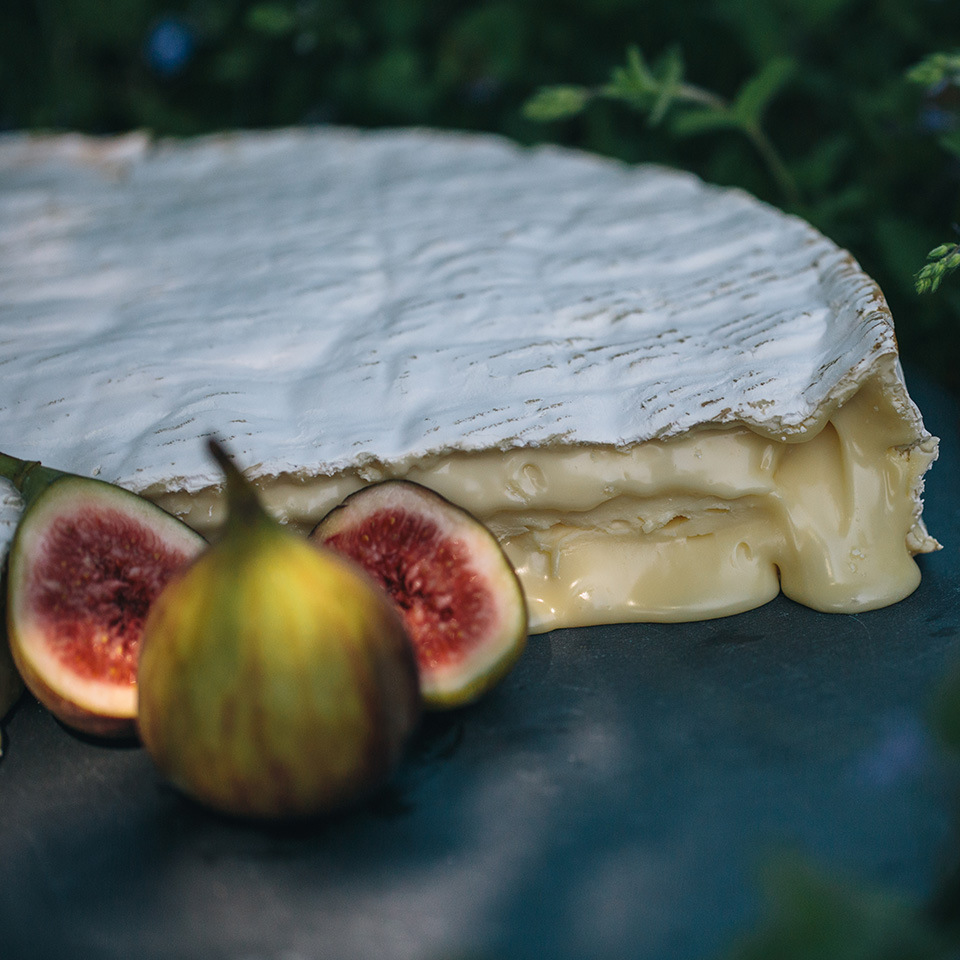 Baron Bigod, photo: Dulcie Crickmore
The makers of soft, perishable cheeses were immediately and particularly affected by the crisis. Not only did the restaurant market which was the core of their business collapse, but people buying cheese at the start of the lockdown wanted hard cheeses – Cheddar or Parmesan – which would keep, rather than soft, perishable ones. "When the restaurants closed, we lost about 70% of our business," says Jonny Crickmore of Fen Farm Dairy, Bungay, Suffolk, maker of Baron Bigod a luscious, Brie-style cheese. "We stopped making cheese for two whole weeks, turned our chill room down to try and get all the cheese to mature slower and worked out what it would take to shift the cheese we'd made for Easter, which is usually our busiest period. We had a mountain of cheese that no one wanted.
Rather than waste it, we sent out bits of cheese through a dairy company as a present to people in these tough times. We had loads of lovely messages. Some of them brought a lump to my throat. One lady was 80 something and couldn't leave her house and she wrote and said it had made her day." Jonny and Dulcie focussed on their online shop and spreading the word via social media. "We realised that we'd have to reduce our price initially just to get the money back that we'd put into the cheese. We've also realised that people want it pre-cut, so we've done that.  Last week 80% of our business came from our online shop." Jonny's energetic response to what's happened is apparent as he talks. "I wake up in the morning and I'm on a mission. It's a horrible situation, but I'm loving the challenge. We were aiming at selling 550 cheeses and sold 400 last week, so that's good. We're doing what we can."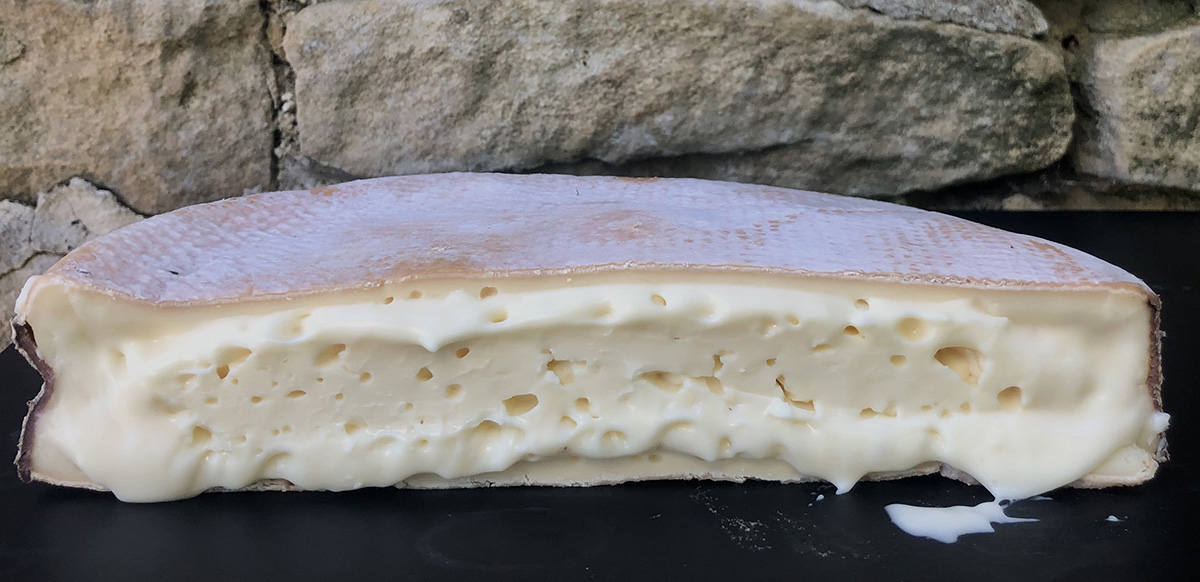 Rollright, photo: David Jowett
New cheesemaker David Jowett of King Stone Dairy, Chedworth, Gloucestershire faced a similar situation when demand for his Rollright cheese (a washed rind, cow's milk cheese, wrapped with a spruce band) ceased. "Before this, we were a wholesale only business. That was a conscious decision." Such was the demand for his cheeses from the restaurant trade that "ironically" he'd recently substantially expanded his creamery. The sudden loss of a market saw him left with two tonnes, 2000 cheeses, with a total shelf life of 6 weeks. Like Jonny of Fen Farm Dairy, he reduced the price of his cheese and turned to social media to sell directly to the public, delivering the cheeses himself locally. "We used Instagram and the Nextdoor Chedworth community to spread the message. The support that our village and the surrounding villages have shown us has been amazing. I think I've delivered to every street in our village – it feels like that! Someone would order from one household on a street and then a day or two later their neighbours down the street would place an order."  Having managed to shift some of his stock, albeit at a reduced price, and furloughed three of his staff, David plans to start making cheese again next week, with a view to selling it in three weeks' time. "It's a bit of a gamble, but if we want to have something to sell to earn some income we have to do it."
Based in the Lake District, farmer Martin Gott makes St James, a distinctive, washed rind, raw sheep's milk cheese. His is a seasonal cheese, since sheep don't give milk all year round. "We start lambing in January, February and our cheese production starts February, March and continues to August or September when it tails off. By Christmas it's not unusual for us to have no cheese, which is the reverse of most cheesemakers. We try and make our money at other times of the year. Our peak selling season starts with a big push at Easter. March to June is our biggest sales window so we're acutely feeling the pressure of having no sales. In normal terms we'd have expected to sell 400 cheeses and we sold 40." The impact of the crisis saw Martin stop making St James, a "relatively soft, short shelf life cheese", deciding to use the milk from his sheep to make a hard cheese instead. Named Crookwheel, after a large field on his farm that provides the straw for his sheep, this new cheese is an experiment for Martin. "We've made trial batches of this hard cheese before, but not had regular production. We're looking to make a long aged, denser St James. They're well-made and well looked after, but it's a gamble, as it takes time to get a cheese recipe right, usually months or years. They're designed to start going out at the end of June, when we're hoping some restaurants might be open again."
Martin Gott, St James Dairy
Over the years of writing about the British cheese world, I've always noticed and liked its sense of being a friendly, tolerant community, made up of people who share an interest and treat each other with respect. During these interviews, a strong feeling of mutual support in this time of crisis came across. "The artisan cheese world is just a lovely place with kind people," says Jonny Crickmore warmly. David Jowett of King Stone Dairy concurs.
"There was a fortnight when Neal's Yard Dairy and our existing wholesalers didn't buy anything, but they were calling up for a chat, checking in with us, sort of pastoral care. I didn't feel alone." Where cheesemakers are selling their own cheeses directly – such as Graham Kirkham, Jonny Crickmore or Martin Gott who has a raw milk cheese stall at Altrincham Market – they are also selling cheeses from other similarly beleaguered cheesemakers to support them. "Some of our cheesemakers and people from Neal's Yard Dairy have bought cheese boxes from Courtyard Dairy to support us," Andy Swinscoe tells me. "Everyone is helping everyone where they can. It's not a time to be competitive," says Billy Kevan.
There is a resilience to the way Britain's artisan cheesemakers are responding to what has happened, from finding new ways to reach customers – online, through farm shops, by doing local deliveries – to creating new cheeses, as with Martin Gott's Crookwheel. The fears of the damage being done to the fragile ecosystem of British artisan cheese, however, are real and profound. "If we're not careful, a lot of farmhouse cheesemakers will go out of business," warns Andy. "Graham Kirkham is our only farmhouse Lancashire maker. If we lose him, we lose that whole tradition. If Graham had to stop making cheese, that knowledge he got from his mum isn't something that can be written down or watched on a video, that's something that needs to be felt and done every day."
This crisis has turned our attention to our food system. "There are two stories to tell here," points out Martin Gott. "One is the urgent need to support British cheeses. The bigger story is why British cheese is so dependent on the restaurant trade. What have supermarkets been doing that has meant this thriving, world-class, award-winning British food industry is almost entirely dependent on the food service sector?  If you look at Wholefoods in America, before Amazon bought it, that was an example of a supermarket embracing the artisan cheese industry." Looking ahead, for Martin it's essential that not only the cheesemakers survive, but independent specialist retailers. "Without independent food shops, there isn't a market after COVID-19 – and we need more of them." Andy Swinscoe agrees with him. "Every cheesemonger offers a different range of cheesemakers, so that way you get a more diverse, stronger community." Selling direct to the public in a cheese shop – offering tastings, telling stories – allows for the more unusual, "esoteric" cheeses that people haven't heard of or tried before to be sold. "Martin Gott's St James is an example of this," says Andy. "His cheese is one of the best cheeses in Britain and he relies on cheesemongers to get the word out about it. That's easy when people walk into the shop, but online you don't have that same face-to-face interaction."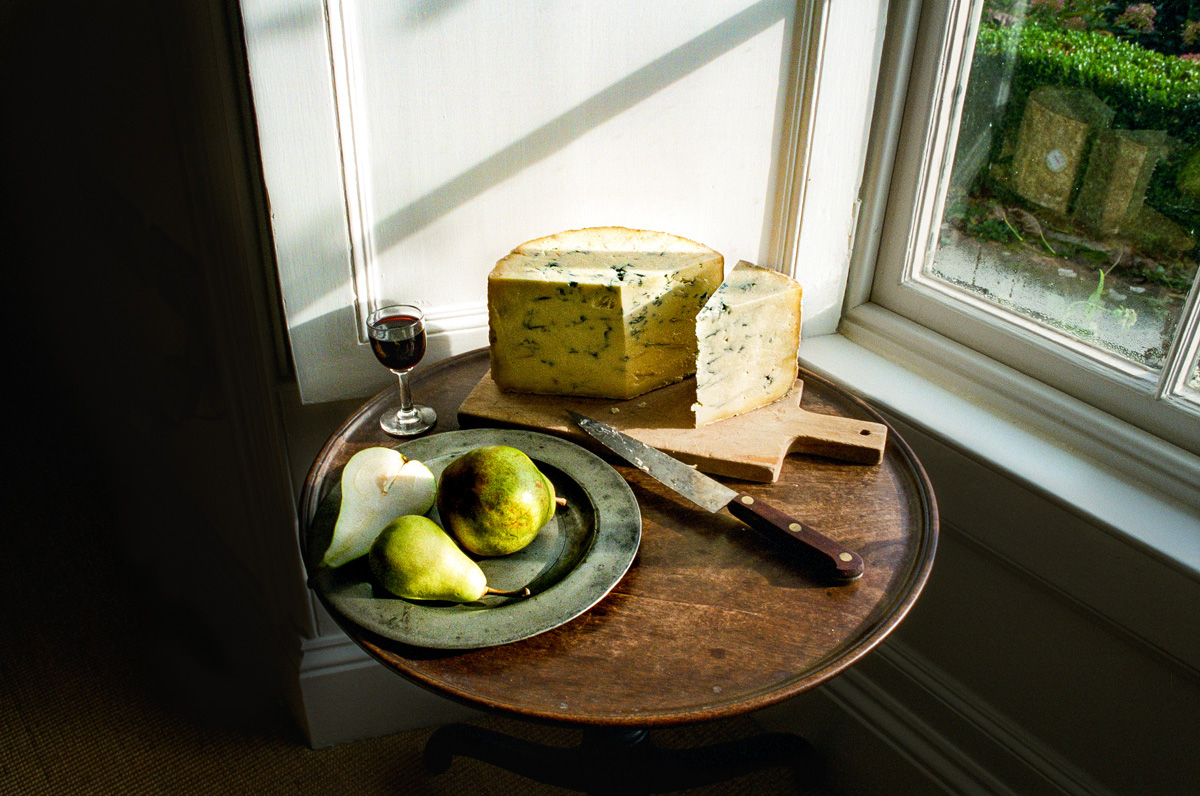 Stichelton, photo: Harry Darby, for Neal's Yard Dairy
"What I would say to people is you're eating at home now," says David Lockwood of Neal's Yard Dairy. "You're not going to restaurants to eat meals, so buy some of this wonderful food that you don't have to mess with. Put it on the table with some leaves and tomatoes and you have a great meal. Because of the lockdown, there are very few distractions. Sit down and eat and take the time to appreciate these beautiful British cheeses."
Cheesemaker Graham Kirkham's message is from the heart. "Please support us, your small, unique food producers. Otherwise, all those nice treats you've enjoyed won't be here because we won't be around to make them. We started making cheese in 1978, before that my grandma, my mum's mum, made it all her life. It just seems so unfair to think we're nearly coming to the end. Please hunt us out and buy from us, because if you don't we won't be here. That's the black and white of it."
The message is simple and it's why I've written this piece. If you care about saving British cheeses – such a precious, special part of our food heritage – then please buy some artisan British cheese. Support our hardworking, committed British cheesemakers and the cheesemongers to see them through this economically catastrophic situation, so that when it's over we can still enjoy these wonderful cheeses.
Cheesemakers websites
Some cheesemakers have working online shops, others can be contacted through their websites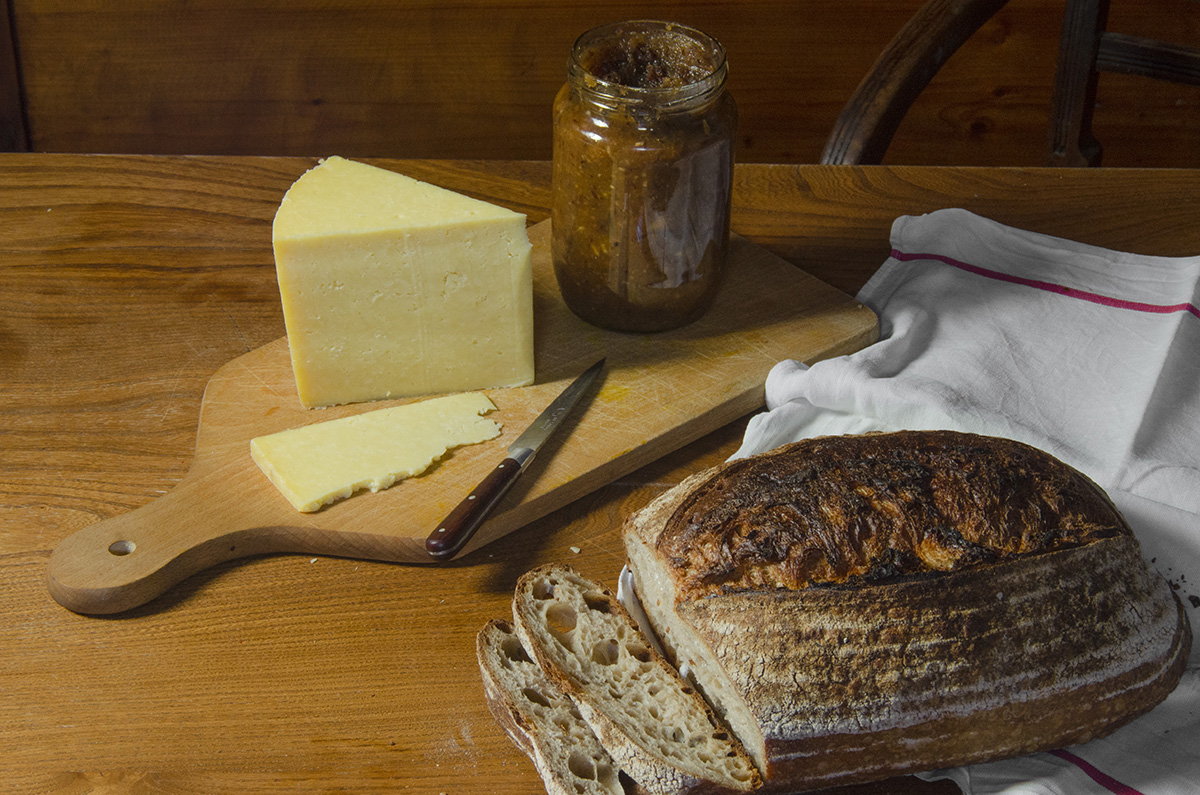 Lancashire, photo: Harry Darby, for Neal's Yard Dairy