Iranian food is still surprisingly little known in the UK. We are missing out on some special tastes, as is abundantly clear when you try out London's Iranian restaurants, which are mainly in west London. There is Hafez, a veteran eatery established 25 years ago, or Alounak, where the appetising smell of lamb cooking over charcoal signals a staple of Iranian food: the kebab, which is either kebab-e-barg (succulent lamb fillet) or kebab-e-koobideh (tasty minced lamb).
Meat is very important in Iranian cuisine (there is not much to tempt vegetarians here), and alongside the joys of barbecued meat you will be offered a host of delicious "sauced" dishes known as koresht. Another characteristic feature of Iranian restaurants is a clay oven, often on view. When you order lavash or "Persian bread", you will see a ball of dough being rolled out finely, cooked briefly on the roof of the oven and then brought freshly-baked to your table, to enjoy with tangy dips and fresh herbs.
Iranian cuisine is one of subtle flavours and balanced dishes marked by characteristic flavourings, such as saffron. Butcher says: "The best saffron comes from Iran, it's exported all over the world. Iranians use it in everything from rice to ice cream. It's never sold powdered in Iran because then it could be adulterated; no Iranian housewife would buy it powdered."
Pomegranate molasses, with its rich sourness, is a staple in Iranian cookery and is most famously used in fesanjoon, a luxurious dish made from duck or chicken in a ground walnut and pomegranate molasses sauce. Dried limes (limoo) look dull, yet add a distinctive citrus note to Iranian sauced dishes while rosewater gives a perfumed fragrance to pastries, desserts and drinks.
Sumac, made from ground berries, adds sourness to rice, as do small, red, dried barberries, soaked, then fried and tossed through rice. "There's a salty-sour axis of flavour in Iran," observes Butcher. "An Iranian sweetshop is full of sours not sweets! Iranian kids in my shop head straight for these tubes of sour fruit leather. There are lots of dishes flavoured with sour ingredients such as sour plums or rhubarb."
Rice plays a special part in Iranian cookery; cooked to create a highly prized crisp undercrust (tahdeeg). As Iranian rice is rarely exported, experts suggest buying basmati rice as the nearest equivalent abroad. "If you want authentic Iranian rice with tahdeeg, buy an Iranian rice cooker," says Butcher, "and make your life easy!" Shirin pulao is a dish served on special occasions, flavoured with dried sour orange peel, raisins, nibbed pistachios, almonds and, of course, saffron. "A finishing touch," says Butcher, "is to add nabat – saffron sugar crystals that are smashed and sprinkled over the rice so they look like diamonds."
During the run-up to No-Rooz, houses are cleaned from top to bottom and smart, new clothes are bought to wear on the day. On New Year's day each family lays a table with the Haft Seen, seven items that begin with the letter S in the Persian alphabet: seeb (apple), sabze (green shoots), serke (vinegar) or sumac (spice), samanoo (a paste), senjed (a berry), sekke (coin) and seer (garlic). Mirrors with candles in front of them symbolise fire and there are also goldfish in a bowl, representing prosperity and life, plus painted eggs (fertility) and flowers.
Traditional Iranian New Year dishes include fish with sabzi pulao (herbed rice) or reshteh pulao, rice with noodles. "Persian New Year is a really busy time of year for us," says Farshid Ziafat, manager of the Hafez restaurant. "Business will probably be around 40-50 per cent up."
Following New Year's day, Iranians traditionally begin visiting family and friends, and Iranian food shops do a roaring trade in pastries.
The 13th day of the New Year, Seez-dah-be-deh, is another special day for Iranians. Butcher says: "It's considered unlucky to stay in your house and so everybody goes out for a picnic. In Iran, everyone goes to the countryside; in London there's a tradition of going to Hyde Park." Her brother-in-law, Omid Golshan Ebrahim, adds: "This day is full of positive thoughts about the spring and summer ahead" – and inevitably of good food.
Published in the Financial Times, March 7 2009
A TASTE OF PERSIA
Iranian food for beginners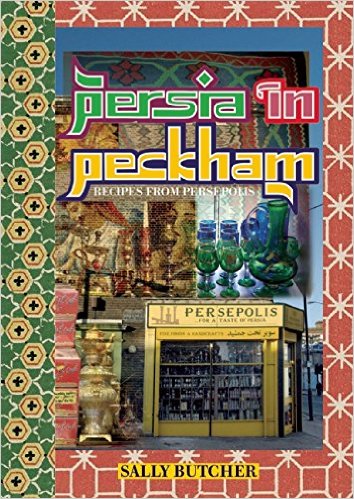 Sally Butcher's book Persia in Peckham: Recipes from Persepolis (Prospect Books, £17.99) is a great introduction to buying and cooking Iranian food.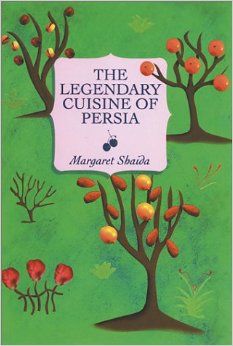 Margaret Shaida's The Legendary Cuisine of Persia (Grub Street, £14.99) is a must-have book for anyone interested in learning more about this cuisine.
Many Middle Eastern food shops will stock some or all of the specialist ingredients used in Iranian cooking, including saffron, dried limes and sumac, but for a real immersion experience, try to visit one of the following London shops, where you will be welcomed by knowledgeable staff.
Persepolis, 28-30 Peckham High Street, SE15 5DT tel: +44 (0)20-7639 8007;
also sells by mail order
Super-Bahar, 347-9 Kensington High Street, W8 6NW tel: +44 (0)20-7603 5083
Reza Patisserie, 345 Kensington High Street, W8 6NW tel: +44 (0)20-7603 0924