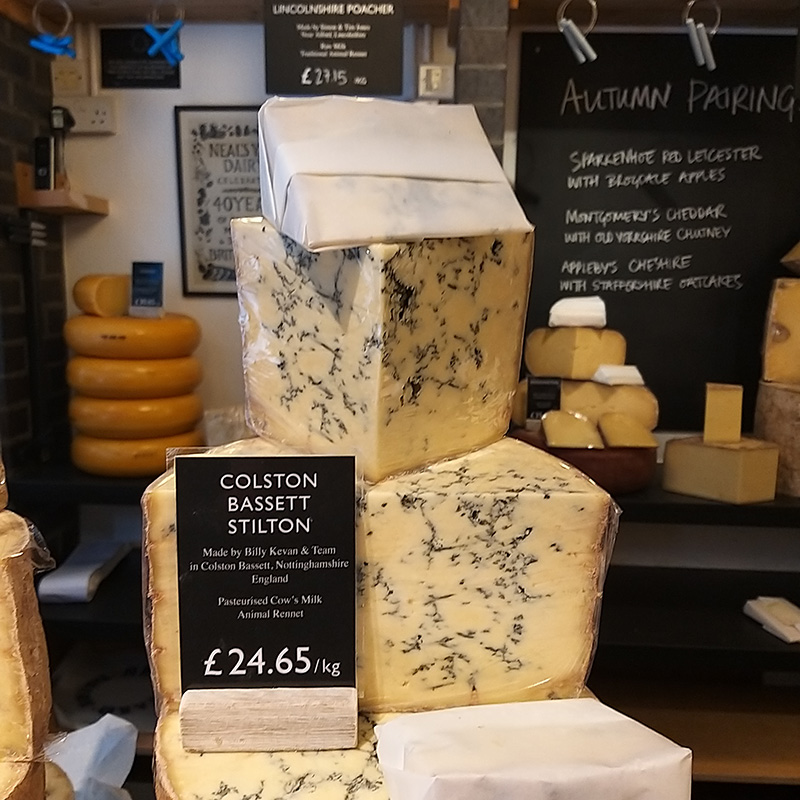 A good cheese shop is a great portal to the wonderful world of cheese.  Being able to see, taste, talk about and buy cheeses from a helpful, knowledgeable cheesemonger is a very pleasurable education. I know this from personal experience. I was working nearby as a bookseller when I wandered into the original, small Neal's Yard Dairy, tucked away inside Neal's Yard, and had my first glimpse of the British farmhouse cheese world.
Shopping there over the years introduced me to both traditional British classics and new cheeses, created by a new generation of cheesemakers, while Patricia Michelson's expertly chosen collection at La Fromagerie gave me an insight into the pleasures of European cheeses.
Neal's Yard Dairy, Essex Road – Photos: Harry Darby
In what has been a strange, grim year, it was cheering news to learn that Neal's Yard Dairy were opening a shop in Islington, London in November, their first new shop in 22 years. "I've always wanted to be next to a taxidermist!" says Jason Hinds, Sales Director and Joint Owner of Neal's Yard Dairy, with a laugh. In fact, their Essex Road site has been shrewdly chosen – as well as having local landmark Get Stuffed next door – over the road are Steve Hatt fishmongers and James Elliot butchers, forming a useful "cluster" of good food shops. The desire to open a shop in a residential part of London pre-dated the Coronavirus crisis, Hinds tells me. "In an age of Amazon, it seems to me that the retail road map is being redrawn and the businesses able to cut it on the high street are the ones offering something pared down and very affordable or high quality and experiential." He is clear about the value that Neal's Yard Dairy offer. "My own interest in cheese started with me shopping in the original Covent Garden shop. There were cheeses displayed outside, which drew me in, like the Sirens in Greek mythology. Inside it was this incredible cavern with the smell of the cheeses, slightly damp, slightly cool. Stepping in a cheese shop triggers your senses experientially in a way that supermarket can never do. You have customer service, the engagement of a real human being, someone who's hopefully passionate and knowledgeable about the subject generally and specifically about the cheeses on the counter that day."
 Funk Cheese Shop Columbia Road – Photos: Nic Crilly-Hargrave
East London, too, has recently seen the arrival of cheese and wine shop Funk on Colombia Road. This is a new retail enterprise from the Cheese Bar London team, known for their cheese-centric restaurants The Cheese Bar at Camden Market and Pick & Cheese in Covent Garden. While the idea of having a cheese shop from which his restaurants could buy had been a long-term goal, the opening of Funk this autumn was a direct response to the Coronavirus crisis, explains Matthew Carver, the company's founder. The first lockdown in March and the closure of the two restaurants saw them left with "an astronomical amount of cheese". Undaunted, the team took to social media and set about selling cheese direct from their truck at various London locations. "During those first two weeks we spoke to the cheesemakers, who – with their hospitality sales gone – asked us can you keep selling it? So, we carried on and set up home deliveries. So different from running restaurants. I was turning up on people's doorsteps with cheese deliveries and people were thrilled. They were really open to supporting British cheese, finding out about British cheese." Looking back, Matthew thinks that first lockdown was "a defining moment in a lot of people's relationships with suppliers, with customers. As a restaurant business, we pride ourselves on buying direct from cheesemakers and with that comes responsibility. Producers still needed to milk their animals, make cheese and that fueled us to keep going and try and sell as much cheese as we could during lockdown."
Realising that another lockdown might well happen, Matthew was keen to set up a cheese shop as a source of revenue. When the premises on Colombia Road came up, Matthew and his team took the decision to open up Funk quickly and go for it. "We signed the lease and employed the shop manager in three weeks!" says Sam Wilkin, Cheese Bar's Head Cheesemonger, cheerfully. The stock consists of British cheeses – "our slogan 'Eat more British cheese' is emblazoned on the shop window". A recurrent theme among all the cheesemongers I talk to, is how to engage with customers during these Covid times, when tastings can't be given out. "The skill of cheesemonger in describing cheeses – building a vocabulary – and constantly tasting the stock as a cheesemonger is really important," observes Sam. "Your own relationship with the cheese is the most compelling cheese pitch. The reward of selling cheese is those moments when you know you've opened a door for somebody to that world of deliciousness out there."

 Funk Cheese Shop Columbia Road – Nic Crilly-Hargrave
One of the reasons to buy cheese from a specialist cheese shop rather than a supermarket as that good cheese requires both knowledgeable selection and careful looking after as it matures. Ruaridh Buchanan of cheese wholesaler Buchanan's Cheesemonger, London is widely respected for his cheese-maturing abilities, supplying high-end restaurants such as Elystan Street, Chez Bruce and La Trompette with cheeses for their cheeseboards. Listening to Ruaridh explain the intricacies of maturing – the way he uses factors such as temperature, humidity levels, micro-climates, different ways of wrapping cheese – it's clear how absorbing he finds this careful, nurturing aspect of selling cheese. "Maybe it's single-minded, but cheese deserves to be delicious. It's not an exact science – there are a lot of variables. With small, individual, soft cheeses eating between 4-6 weeks old, they have a sweet spot of around five days, I'd say, so a very narrow window of opportunity to get them out and that's my job." His "curated" list of cheeses offer a range of styles and flavours. "I would age a Dorstone in a particular way, so it's quite runny under the rind, but dry on the outside. I would age a Golden Cross to be more constant in texture all the way through, a fudgy texture."
Buchanan's is, in Ruaridh's own words, a "professional wholesalers, who happen to have a little shop on the side." With around 90% of his revenue coming from wholesale, the repeated hospitality closures and restrictions in London have hit him hard. The first lockdown saw him left with a huge amount of costly cheese in stock. While Ruaridh considered mail-order, he felt the work and costs of setting up an online shop from scratch and in a hurry were too high, so focussed instead on improving the retail offer in his existing Porchester Place shop. Using his wholesale contacts, he bought in carefully sourced staples such as bread, flour, milk, eggs and fruit and veg to complement the cheese. His efforts were rewarded with noticeably increased trade, especially during April and May. Looking forward he sees Buchanan's carrying on as both "a wholesaler and a retailer."
The pandemic crisis saw many artisan cheesemakers across Britain start selling cheese directly to the public for the first time, both locally and online. In Somerset Cheddar-maker Jamie Montgomery has sold his Cheddar and Ogleshield through his local village shop for several years. "The farm owns the building and we like having a shop in the village," he explains. "When the post office got closed down, we thought are the people in there going to have a business? Much better to let them do our mail order and keep their business alive. I'm still selling the cheese wholesale to them. This year they've had a wonderful time – the mail order's gone ballistic!" "Cheddar has done well this year," confirms Jackie New, who runs North Cadbury Village Stores. "No air miles involved, as the farm is only 50 yards away. It is fantastic cheese. It's our mainstay – our unique selling point."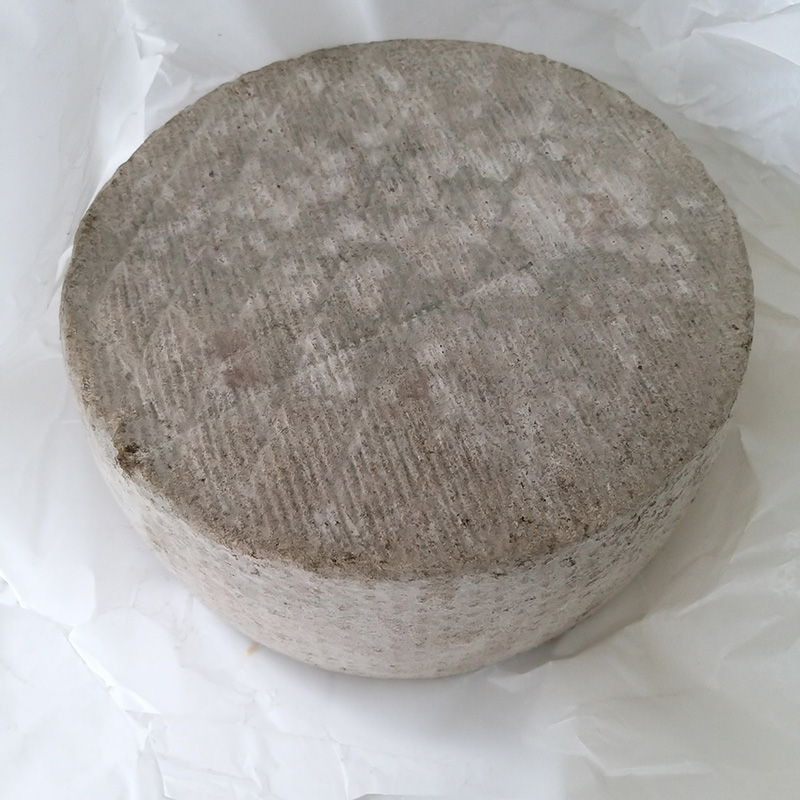 Whole Crookwheel cheese made by Martin Gott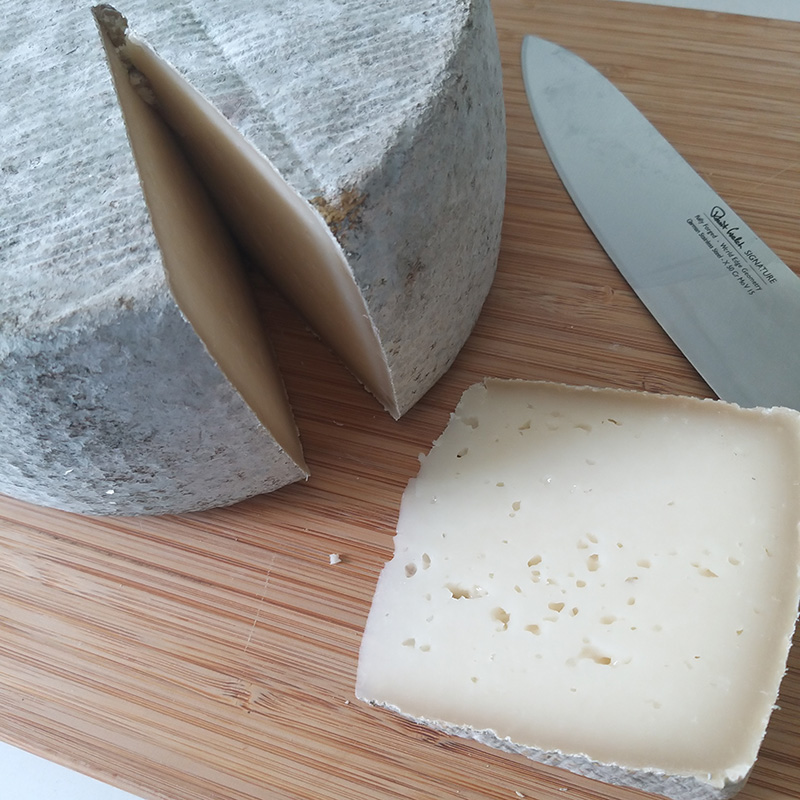 Cartmel Cheeses in the village of Cartmel, Cumbria was opened in 2010 by cheesemaker Martin Gott, together with Ian Robinson. Having moved from Bath to Cumbria, Martin was struggling to sell his St James cheese locally. "Delicatessens and farm shops would say 'Oh, it smells. Our customers don't like because it smells.' I was making a product that I could sell in London, but not in Cumbria. In the end I was just so frustrated at the lack of places to sell it in Cumbria that I thought, well, I'll do it myself." Martin had a clear vision of what he wanted Cartmel Cheeses to be. "People thought I was mad just to sell cheese. But I said, if we sell really good cheese, people will come. There weren't any specialist cheese shops at that time in the area. A good cheese shop does become a destination. Our model of what a good, specialist cheese shop should be was the old Hornby Railway shops. If you walked in and didn't know what you wanted, someone behind the counter would guide you as to what you needed. There'd be discourse and understanding and that's how they built their customer base."
In choosing Cartmel to set up business in, Martin had also, sensibly, clocked the potential advantage of having Simon Rogan's famous L'Enclume restaurant up the road. He did, indeed, end up supplying it with cheese. "A lot of our cheese ends up on fine restaurant cheeseboards because so many chefs have passed through L'Enclume and know our cheese. Independents doing their own thing drive the industry forward." Despite his initial difficulties in finding shops to sell St James, the response from the local community to Cartmel Cheeses was very positive. "People took ownership of the shop, it was their cheese shop. When they had visitors they'd bring them to us – the vicar would bring visiting Archbishops and Angela Hartnett and Michel Roux Jnr on their way to L'Enclume. It is a tiny shop in a village of just 500 people, but it's reach was colossal." Looking back at that decision to set up a cheese shop, Martin feels vindicated. "We wanted a diversity of customers, to get the word out, prove that it can be done, that good cheese has a place. There was a bit of stubbornness there as well."
Five years ago, Martin sold out his share of Cartmel Cheeses to Ian, in order to concentrate more on farming and cheesemaking. Martin's latest retail venture, however, is New Market Dairy, a cheese stall at Altrincham Market. "The nice thing about a market stall is that being out in the street changes the dynamic. People are walking past and you have a chance to grab their attention. When you have someone interested in cheese in front of cheeses it's all about engagement. We've sold a heap of cheese and basically our stall is an eight-foot table and a fridge counter."
At Cartmel Cheeses, Ian Robinson feels he has found his niche. Friendly and outgoing, he enjoys sharing his love of cheese through the shop. "Every single cheese on our counter is there for a reason. We went to the top end and people appreciate what we've got. People ask how do you work seven days a week? But I don't find it work. I really enjoy it." Given how close Cartmel Cheeses is to Martin Gott's dairy, this is probably the best place in Britain to find Martin's often elusive, much sought after cheeses. "We're just seven minutes away from the farm. St James, Crookwheel, Holbrook – we have all his cheeses. If anyone will have them, we will!"
Over in Belfast, cheesemaker Mike Thompson opened up Mike's Fancy Cheese cheesemongers two years ago. "I spent a week with Andy Swinscoe at The Courtyard Dairy and it made me want to open a cheese shop, so I did." Mike had been selling his Young Buck, a raw milk blue cheese, at markets; "I think it was the weather in Belfast which made me open a shop!" There was a practical economic imperative too. "Before I set up my shop, we saw two Christmases and didn't have massive spike that blue cheese should have. The Courtyard Dairy and our London customers were ordering 3-4 times as much, but our Belfast customers ordered the same." He found an affordable site next to his favourite pub and a short walk from home and the shop has been well-received. "We opened on the 26th of November 2018 and that first Christmas was incredible. I was like, oh happy days, then January came!"  While there were delis in Belfast – such as Arcadia where Mike worked and became interested in cheese – his shop is Belfast's first specialist cheesemonger.  Whereas the delis offer around 100 cheeses, many of them vacuum-packed quarters, Mike stocks between 20-30 predominantly Irish cheeses "Like at Andy's, the idea is that the minute you open the wheel, you'll be selling it. All three of us who work in the shop also make the cheese – that works well." A raw milk, blue cheese is a "really variable" product – "there's a reason people don't make them" – so you know all the reasons for the changes.  While having a cheese shop has been useful financially for his business, Mike also wants to help nurture Northern Ireland's cheesemaking scene, where at the moment he is one of a handful of small-scale makers. "I saw that within the radius of The Courtyard Dairy, cheesemakers are appearing. If we have a shop, it gives other cheesemakers a bit of confidence. We can tell them what we could sell, how much of it, so hopefully in five years' time there will be more cheesemakers here. If there's not that route to market for good cheese, people will think of making for supermarkets, rather than thinking I want to make something incredible."
Portrait photo: Alban Donohoe
Cheese's capacity to enthral people is exemplified by former accountant-turned-cheesemonger Clare Jackson of Slate Cheese's story. "It sounds terribly naïve four years down the line, but my Dad and I set up Slate Cheese together entirely driven by a love of eating cheese. We'd both lived in London, loved cheese and had bought cheese from Neal's Yard Dairy and La Fromagerie – had that amazing experience." A move to Suffolk saw them take on an existing delicatessen in Aldeburgh to learn the ropes, out of which Slate's two cheese shops (one on Aldeburgh, one in Southwold) were born three years ago. While the stock consists of British and European cheeses, there is a distinctly local element.
"We're champions of our local East Anglian cheeses.  Our small cheesemakers' products don't get very far beyond the county boundaries. I think it's great that our most popular product online is our East Anglian selection. A lot of people visit our shops while they're on holiday and then buy online from us because they have happy memories of their visits and can see that we look after our cheeses." While Clare is clear that running cheese shops – especially during a time of pandemic – is hard and challenging, her relish for her new line of work is evident. "I have just been delighted and thrilled by this deep dive into the world of cheese. Even though I'm such a newcomer to this world, people are so welcoming. I love going to visit cheesemakers like Fen Farm Dairy or Lincolnshire Poacher to help make cheese. I learn about the care and attention that goes into making and maturing cheese and then share this with our customers."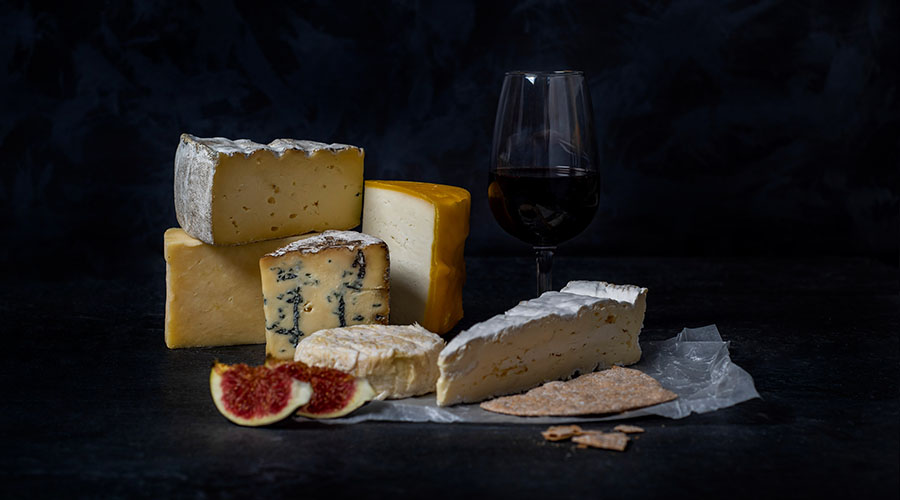 Photo: Slate Cheeses
We often don't understand or appreciate the hard work that goes into running a good cheese shop. Talking to cheesemongers around the country for this piece in what has been a very challenging year, I was struck by their energy, positivity, flexibility and how much they care for cheese and its makers. Discussing the enthusiastic response from locals to Funk opening, Matthew Carver observed "I work in the cheese world and it's made me realise I would love to have a really nice cheese shop on my street. It would change how I eat cheese. People come down to Funk on a Friday night to get nice cheese and a bottle of wine and I wonder if they would have done that before." Jason Hinds of Neal's Yard Dairy is also looking forward with optimism. "After the pandemic, people will be looking to revive the high street. I think food shops have a massive part to play in this. People need food constantly, they shop for it frequently and food shops bring people to the other businesses around them. Landlords are going to have to be more realistic. Food shops have been priced out for two decades, but now they should be given the opportunity to get back to the high street and help revive it."  More good cheese shops on our high streets would make me very happy indeed.