One of the many oddities of the lockdown period was that while supermarkets were busy – both in their stores and online – many food markets were closed down. This despite the evidence soon emerging that, with regards to the coronavirus, shopping outdoors rather than indoors is safer. For many small-scale food producers selling at markets is an important income stream and being deprived of it so abruptly was a major blow. Some markets, however, commendably stayed open, adapting swiftly and flexibly to the new circumstances of the lockdown. They carried on trading – albeit in an altered form – a fact which was important to both their stall holders and the communities they serve.
Photos: Claire Harrison.
Use the arrows or swipe to browse.
Among them was Altrincham Market in Altrincham, a market town in Greater Manchester, run in its current incarnation by Nick Johnson and his partner Jenny Thompson. Having worked in urban regeneration, Nick – together with Jenny – took over Altrincham Market, their local market and reinvented it, re-opening it in 2014. The vision for Altrincham – which has had a market charter since 1290 – was to re-invent it as "the modern market town," explains Nick. "Altrincham Market represented the possibility of making transformational change through two things: food and curating the talents of people."  The re-conceived market has proved hugely popular, attracting much footfall and awarded Observer Food Monthly Best Market in 2015. The focus, explains Johnson, was on offering a "rewarding food experience" both to diners (catered for in Market House) and shoppers. "People look at us now and think this amazing market just appeared. Jen particularly has put an awful lot of time and effort into nurturing people and ultimately that begets more likeminded people. In my entire life in urban regeneration this has been the hardest work but the greatest fun."
With regards to the food at the market, the plan from the start was to offer local food. "We really wanted to focus on the foods of the north-west of England," explains Jenny. "We thought when we took over the market, that food producers would jump at the chance to come to a new market close to Manchester, but what we didn't understand – which we do now – is there has to be demand for their products. If people are going to travel a long way, they've got be able to sell their products."
With the lockdown, Market House was closed and the decision was taken to re-open the market in a reduced form with around a dozen traders offering essentials such as bread, fresh produce, fish, meat and dairy products.  Jenny's sense of responsibility for the traders and the local community is clear: "We're just trying to keep as many people open as want to be open and also keep people fed while being as safe as possible." Seeing customers looking frustrated as they queued to shop at the market, Jenny promptly set up a market food box scheme which could be ordered in advance and collected as an alternative to buying from the individual stalls. "We quickly learnt that we had to give everyone a collection time. It's very organised now, so we have 12 people every half an hour come and collect."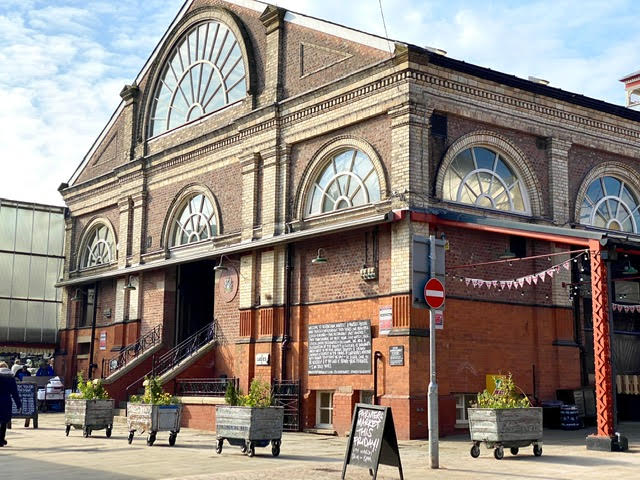 Each week Jenny works with the traders to agree the contents. "I try to work out what would be a good amount for a family for a week. I make sure that in the meat box they're getting really good meat from the rare breed farm in Cumbria and we tie it up with a recipe. This week it was for a traditional Italian ragu, so I got the farmers to put pork and beef mince in the box." Packing up the orders is carried out by Jenny. "Yes, it is a lot of work," she admits when I ask her, "but I'm hoping it will keep our traders afloat."
For Shaun Partington of Savin Hill Farm and Butchery, Altrincham Market staying open offered a lifeline for his business during a time of crisis. "It's been vital for us really," he tells me. "We're farmers up in the Lake District and we keep rare breed cows and pigs. Everything we farm we butcher at home and sell at farmers' markets and agriculture shows, that sort of things. We lost nine markets on the 23rd of March. The only market that kept going was Altrincham." Shaun has spent 20 years building up Savin Hill Farm and Butchery. After leaving school, his first job was milking cows for 10 years, but he was made redundant because of the BSE crisis. He then worked stonewalling and with the money he saved bought "three British White cows and four acres of land. It started from there. It's been hard work. It's a bit different if you inherit a farm." He now has 100 British White cattle and around 180 British Saddleback and Middle White pigs. The work involved in caring for the livestock, butchering, dry curing and selling his own meat is considerable. While a modest man, Shaun's pride is the quality of the meat he produces is evident. "If you eat something that's lived a life, it takes a bit more cooking, but it's got the flavour."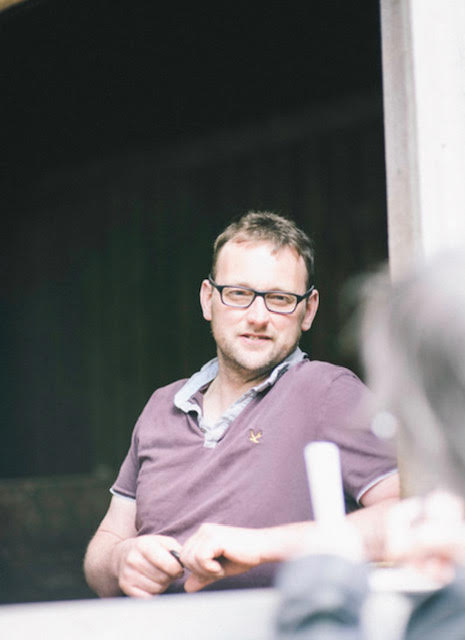 At this time of year, the farm would normally be busy trading at agricultural shows. "Cartmel, Hawkshead . . . all them shows. We have meat stalls and another stall selling burgers and sausages and, well, it's a big source of revenue that we lost. If Altrincham hadn't kept going, I don't know what we'd have done. I take my hat off to Jenny; she didn't really need to do what she's done. Other markets need to realise that without traders, they won't have a market."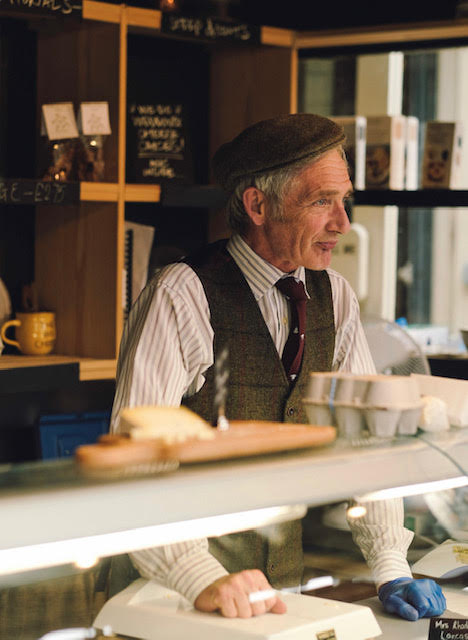 Photo: Claire Harrison.
Jeremy Jackson of Winter Tarn Dairy is another Cumbrian food producer for whom Altrincham Market staying open during lockdown has been important. "We're in Cumbria and, as you well know, there's more sheep than people here! We have five markets, but all of a sudden Altrincham was the only one open. For us, it was a bridge into Manchester. When things were difficult at the start, it did mean we were able to keep running."  As well as selling at markets, Jeremy supplies his own-made, "dense, old-fashioned" butter and British cheeses to restaurants and so his business was hard hit by their closure. "Restaurants stopped overnight, so we had to think well how are we going to survive? It's been sheer bloody mindedness at times. We just took every opportunity – the more we shift, the more it's helping cheesemakers." He promptly switched to offering home deliveries, as did many of the small shops he supplies. "Butter's gone mad. We were supplying a milkman in Manchester who took 500 rolls a week and he's gone to 700 a day." Thanks to having his grown-up children at home, he was able to increase butter production to satisfy demand. "Fair play to our kids, they've been brilliant. We could increase our workforce but still be an isolated unit." The cream he uses for his butter comes from grazing herds. "The way the dairy industry is, we've got people crying out to us to take their cream."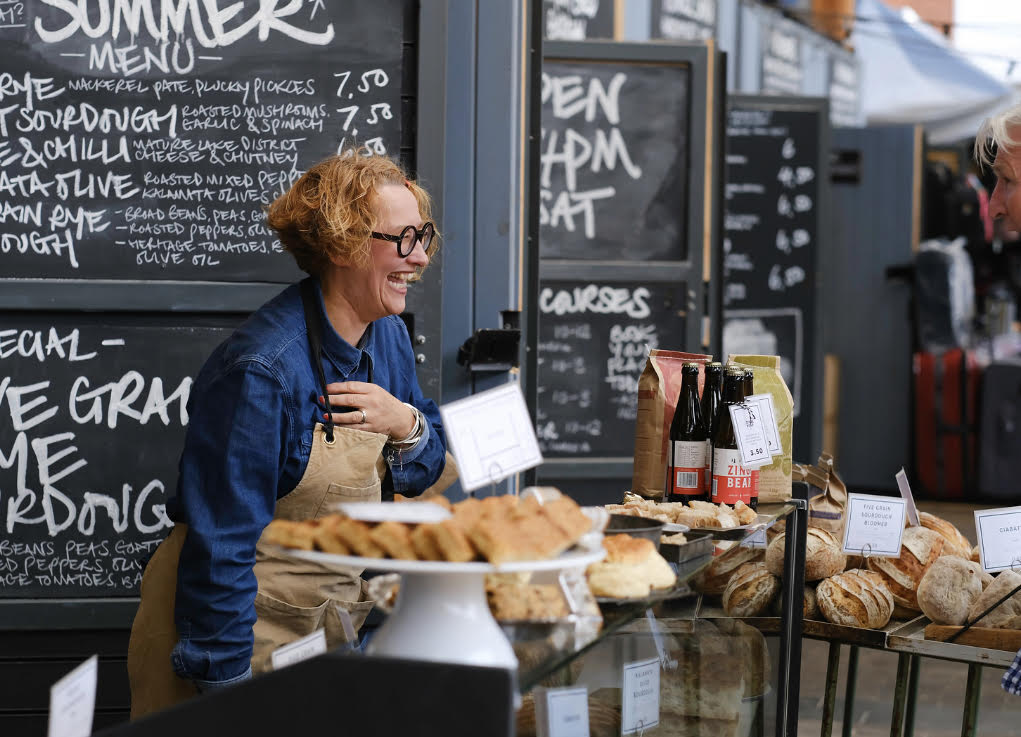 Photo: Claire Harrison.
Aidan Monks and Catherine Connor of the Lovingly Artisan bakery are also very grateful that Altincham Market stayed trading. "It is our main market, explains Catherine. "At the beginning of the crisis, the thought that we might have to close – gosh – that would have put us in a very dangerous place. We do wholesale and overnight 80% of our business just went, so the market became more and more important to our survival." Seeing what was happening in Italy, they foresightedly stocked up with flour before lockdown happened and took practical steps for the safety of both their staff and the customers. "We roped off areas, we created collection points." Aidan and Catherine also seized the opportunity given by the slowdown to look at what they were doing with regards to their bread.  "Without the needs of wholesale, we reinvented every single recipe within three weeks and it's now the best bread we've ever made. Our customers love it." Their bestselling bread is Cheese and Marmite – made with Kirkham's Lancashire to support him – "even the Marmite haters love that bread!" The early days of the crisis saw demand for their bread soar, with customers buying six loaves at a time. "We've always been on a quest to put sourdough at the centre of the table, but it has become very significant. You can buy a loaf of sourdough and it can feed a family through the week."
While around 90% of the farmers' markets in Kent closed down during the lockdown, Shipbourne Farmers' Market was an honourable exception. Bob Taylor, Chairman of the Kentish Farmers Market Association and manager of Shipbourne Farmers' Market, responded to the lockdown with a mixture of common sense, determination and innovation. Before the crisis, Shipbourne's Farmers' Market, now in its 17th year, was held at St Giles's Church. With the church closed "it was a matter of either closing down the market completely for the whole period or doing something different." The year before, Bob had tried to get funding for a click and collect system for Shipbourne, to allow this Thursday morning market to cater for the commuters living locally, but had failed. "Well, with this crisis, we got grants from the local county council and parish council and got the system up and running within two weeks."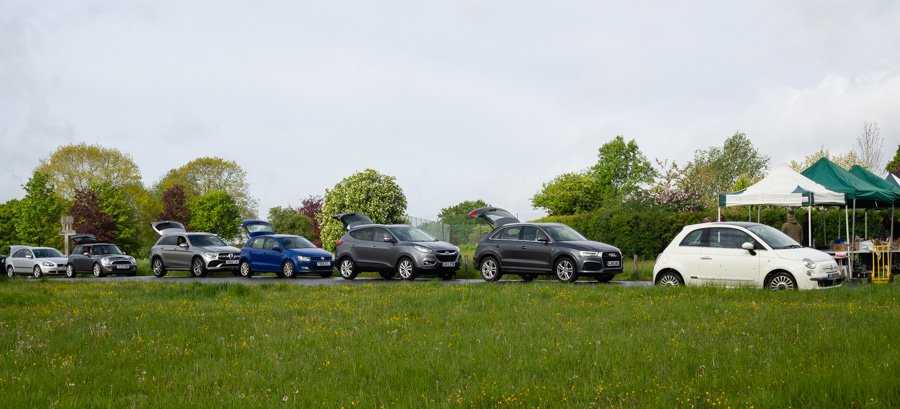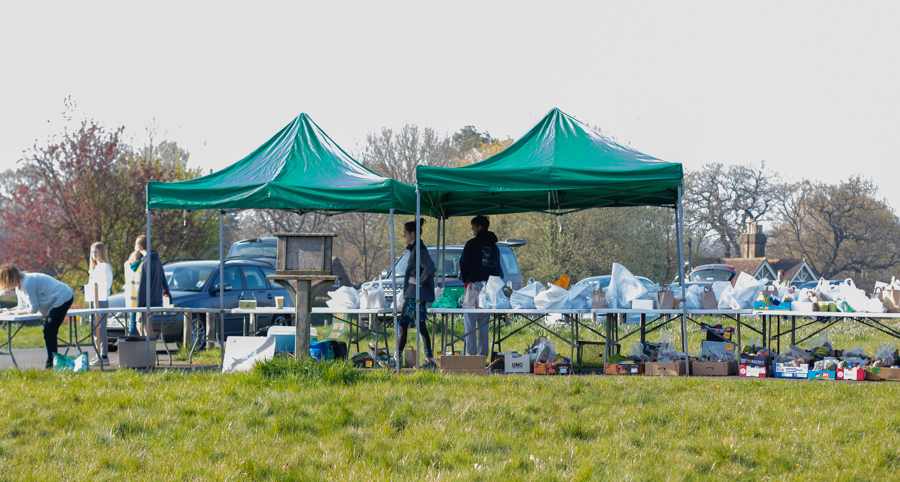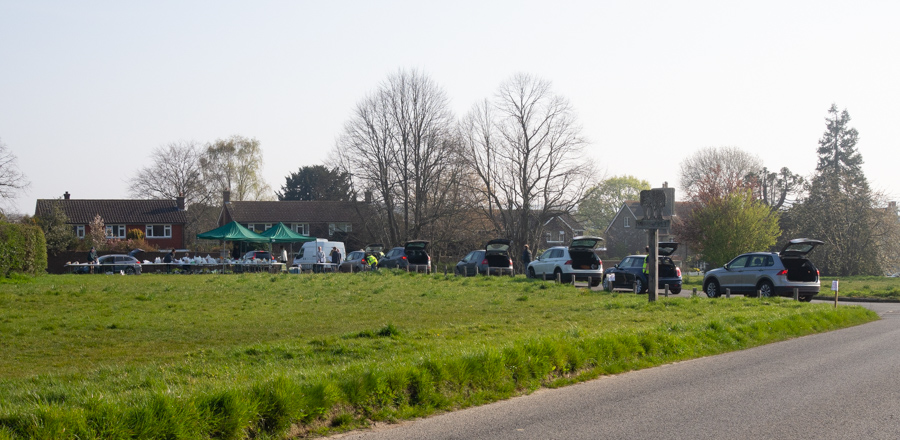 A website was set up showcasing the market's producers and their wares. Customers order online, then come and collect their orders at an agreed time. As with Altrincham, it was quickly realised that offering boxes – such as a barbecue box, a breakfast box – rather than small, individual orders, were the "way forward." What Bob came up with was a "Click and Drive Through" version of the market. "We found a triangle that the cars could drive round. We have about 20 tables with the orders laid out with the order numbers on them.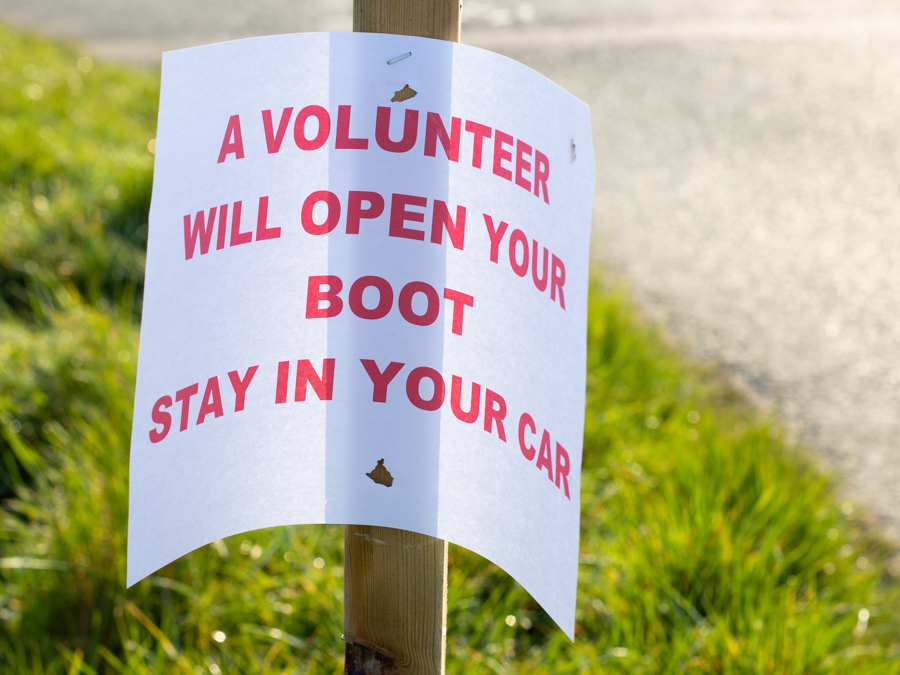 The cars put their order number and name in the windscreen and we ask them to open their boot. We place it in the back of the car and off they go. We've got it all down to a fine art. We start at 9am and finish by 10.30am." With commendable community spirit, the market is run by volunteers, with separate households carrying out different aspects of the operation. Local deliveries from the market for isolating households were also carried out. Keeping the market has, of course, helped the producers too. "Stallholders say that without it, they'd be really out of pocket. Our local cheesemaker was having to throw milk away. They 're desperate and the market gives them some income, which helps." The feedback from customers as well as stallholders has been positive. Having seen the success of his 'click and collect' farmers' market, Bob is keen to share it; "We now want to spread it around other markets."
In London, as in other places, many food markets did close during lockdown. London Farmers' Markets, however, kept most of its markets open, although Islington Farmers' Market had to shut as Islington Council closed all street markets in the borough. "We wanted to keep our markets going to support our farmers and producers and to give customers a safe place to shop for food." explains Cheryl Cohen, Director of London Farmers' Markets. "The Government has said that it's safer to shop outdoors. We believe that continuing to offer fresh food in the fresh air is a contribution we can make." The safety of the shoppers and stallholders, of course, was a concern. Practical measures like gating the markets to allow only a limited number of people in at one time, changing the layout of the stalls to ensure the flow, having stewards at the markets to monitor them, signs and lines on the ground to help people stay two metres apart were brought in. "Although we're letting fewer people in, the people who come in are coming to buy. Very few people are going to queue if they just want to wander around. We've had a lot of customers thank us for keeping the markets open."
London's famous Borough Market stayed open too, although in a considerably scaled down form. "We did what we were legally able to do, which was supply essential foods to Londoners who work in the area and people who could get there. Borough very much went back to its roots as a produce market," says Darren Henaghan, Managing Director of Borough Market. "People wanted basics at first; they were buying red meat and root veg." Whereas on a "normal Saturday" Borough Market would get between 120-140 thousand visitors, footfall during lockdown was, of course ,far lower. However, as at other markets, those who came were doing proper shopping. "People were buying meat, fish, veg, cheese and bread in one shop, whereas on Saturdays people often just buy one thing and then leave. It used to be Padella that had a queue, now it's The Ginger Pig that has a queue."
One of the aspects of markets that I've always enjoyed is their sociability – the chance for a friendly chat with a trader or another customer. By the nature of what they do, many market traders like this convivial side too. "At the end of the day, I find the markets enjoyable," reflects Jeremy of Winter Tarn Dairy. "You meet real people. Also, you don't need to send someone to a shopping centre with a clipboard to do research because your customers tell you straight away. You see people that have come as individuals, you see people that have come together, then you see them come back with the kids and now the kids are coming to buy cheese." During lockdown – that strange, eerie, isolating period of time – the food markets that stayed open offered an important opportunity for human contact. "There's a mental health element to being able to go and pick up something safely," says Jenny of Altrincham Market. "I watch people who've come to pick up their veg boxes talking to each other across the street. Others have emailed me to say they enjoy picking up the orders as it's the only time they get out of the house in the week." Catherine of Lovingly Artisan observed the same thing. "We've been trading through the crisis at the market. So many people were coming to us and that weekly shop would be their only connection to the outside world that week. We – the market -became their new family. They wanted to talk. We see our customers in the queue chatting about what they're going to buy. We feel closer to our customers now."
One positive aspect of the crisis has been that it brought new customers to those markets that stayed open.  For Jenny at Altrincham Market the click and collect box scheme she set up "has allowed us to showcase what's at the market to people who don't shop there normally. People are emailing me to say I've lived in Altrincham for 20 years and I never set foot in the market and I can't believe there's all this great produce on my doorstep and I'm never going to set foot on a supermarket again. I do think that, if there is a silver lining to this, it was that people got to taste things properly in their own home."  Catherine of Lovingly Artisan tells me "A lot of people who've come to the market and bought our bread for the first time have come back to tell us how much they liked it" Darren at Borough Market saw new customers as well. "Some people discovered Borough for the first time, the quality and variety of the food we sell here. People who were not able to go to restaurants, wanted to come here and buy restaurant quality ingredients. During lockdown cooking a meal at home became their activity, for some people it's what they planned all week."
As the lockdown gradually relaxes, food markets are starting to open, but some have closed permanently. Ben Reynolds, Deputy Chief Executive of Sustain, feels that given the crisis and the resulting mass unemployment, markets offer vital opportunities for small enterprises and start-ups to trade and should be encouraged. "A lot of people have been talking about building back better, and Government investment for the economy. Markets could and should be at the heart of this as they are flexible to need and have proved so for centuries, if not millenia. There's almost 50,000 towns and cities in the UK, but only just over 1000 markets. If just 10% of towns were supported to set up markets that would mean almost 4000 new markets, and could lead to 100,000 new business opportunities, or at least expansion of the 32,400 existing businesses trading on markets."
For many market traders, returning to business as soon as possible is important.  Before the crisis, Nick Pivard of Curds & Whey, an artisan affineur and cheesemonger specialising in raw milk cheeses, sold cheese at five markets a week in the West Midlands and his business was going well. Overnight all these closed and in desperation he took to Twitter to try and reach customers, offering a delivery service. The markets are beginning to re-open but trade at them, so far, has been very slow indeed, which worries him.  "We need customers to come and support the people that actually care about the food they sell so that they can pay their rent."
Before the crisis, Justine Paul of Suffolk Market Events ran six regular monthly farmers' markets. While her farmers' markets had to close, with the help of Babergh and Mid Suffolk District Councils the weekly market at Hadleigh, for which she is a consultant, continued through lockdown in a pared down form. "It's just four essential food stalls, all outdoors. I've gone down every week and marked out social distancing. Customers have been fantastic. Stallholders have adapted and it's now cashless. A lot of people have been pre-ordering and just come to pick up their orders. It's provided a fantastic service for the community. An awful lot of people in Hadleigh would have found it hard to get fresh produce without that market in place."  Using this experience of running a market responsibly and safely in a time of coronavirus, she has been working with various authorities to bring back her farmers' markets but the response has been mixed. Talking to Justine, I get a glimpse into the stresses, pressures and frustrations of her current situation. The financial implications of running them in a reduced form are serious for Justine personally – since fewer traders means less rental income for her  – and for the local network of food producers her markets support. "I'm promoting small producers – they're hyper local, within 30 miles if not more local. We've won lots of awards for what we do. Our markets are really popular with people who care about the provenance of their food." The delay in opening markets is having a serious impact on those who run them and who trade at them, she warns. "The longer we're not able to get them out there trading, I'm starting to see people fold. We did our maths last night and since March 23rd we've lost 85% of our revenue. I'm hanging on by a string at the moment. We can only pull it back with support from councils. If we don't get reductions in our rent for running smaller markets, if we don't get to re-open as soon as possible, then we won't be able to hang on. If we can't survive, then there will be a massive ripple effect on the small producers who need our markets for revenue."
Useful Links
Altrincham Market
Shipbourne Farmers' Market
Borough Market
Suffolk Market Events
SustainWeb – Keeping food markets open